Puerto Vallarta Events – Sun Buggy Tour – Things to do in Puerto Vallarta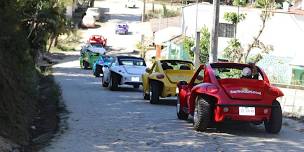 THIS TOUR IS VERY POPULAR AND WILL SELL OUT! RESERVE YOUR TICKETS NOW!
Join us on a tour out to the Botanical Gardens in a Sun Buggy.
Come Jump in a Sun Buggy and take part in our Epic Tour, Enjoy a Breathtaking Scenic drive down the coastline, then take a break at the number one Puerto Vallarta destination spot…… The Botanical Gardens. Enjoy the incredible and beautiful nature surroundings…….., gorgeous flowers, amazing trees, and lush jungle. You can rest on one of the many different terraces, or just relax in the breeze, while taking advantage of the gentle sound of birds and the calm atmosphere. You can even do a little shopping for souvenirs or have a snack in a delicious authentic Mexican restaurant.
Then it is back in the Buggy to meander down the scenic Southern coast. As we cruise back we will stop by the historic El Baston Del Rey Tequila factory so you can learn how the Agave plant is actually refined into the finest of Tequilas. After shopping for a Bottle or two of Tequila, it is time to set your clocks back 25 years and cruise into and experience one of the best kept secrets of Puerto Vallarta, originally put on the Map with the 1961 Filming of Night of the Iguana; Mismaloya. Finish it off with cocktails and a complimentary lunch on the beach where you can experience body surfing in the waves, or hop on one of our complimentary boats and go Snorkeling at Los Arcos, one of Puerto Vallarta world class bays.
If Snorkeling or Body Surfing isn't your thing, have a Cocktail on the beach, shop from the comfort of your seat on the beach with the Beach Vendors that come directly to you with local unique arts and crafts, jewelry, clothing, all while enjoying a long relaxing lunch on the Beaches of Mismaloya, An incredible Photo-opportunity is a short hike down the point, overlooking the pristine water with a fifteen foot Iguana erected to pay tribute to the movie in 1961
What's Included :
Admission to the Botanical Gardens
Dining at Mismaloya
Snorkeling
Boogie Boards for Body Surfing.
What's Not Included:
Alcoholic Beverages
What you need to know before you book
Anyone who wants to drive needs to understand, All Sun Buggy's are manual transmissions. At least one out of every 4 guests must be a willing driver
You must check in 30 minutes before departure. If you miss your boarding opportunity, a credit will be issued for another day. Boarding will close 10 minutes prior to departure.
Buggy Drivers must be age 25 or older to drive, A valid drivers license must be provided.
Every rider must fill out and sign the Sun Buggy Waiver.
What to bring:
-Swimsuit
-Sunglasses
-Biodegradable Sunscreen
-Extra Money for Souvenirs.
-Children must be 10 years old or above
Time: 5½ hours
Price: $129.00 per person. 2645.50 MXN (Minimum 2 riders)
Questions? Message us on WHATSAPP anytime!
Mexico : +52 (322) 275-1800
USA : +1 (424) 542-8449